About Us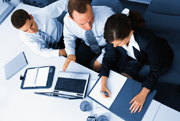 Kinsel Law Offices, PLLC, is a civil litigation and business consulting firm formed by William A. Kinsel in 2001 and located in the heart of the Pacific Northwest, just blocks from Seattle's Pike Place Market. The attorneys at Kinsel Law Offices have the experience and credentials of a large firm, but offer the personal one-on-one representation found only in a small firm. The large number of referrals we receive from satisfied clients is testimony to our dedication to serving their needs. We are proud of our legacy and the service that we consistently provide to our clients and to the community.
While we are a law firm, we are also a business. At Kinsel Law Offices, we understand that the work we do as lawyers needs to make good business sense. We strive to learn your industry and understand the types of issues, risks and strategic opportunities you face so we can offer advice and representation on a wide variety of business and legal issues.
Kinsel Law Offices provides its legal services in many different settings. One of the most important ways we represent our clients is by helping them to avoid disputes in the first place, or by helping our clients negotiate contracts that protect their rights and interests. If a dispute reaches the point of litigation, however, the firm has experience representing clients in mediations, arbitrations, trials and appeals across the country, with particular emphasis on the federal and state courts of Washington and Oregon.
Helping Clients Help Themselves
Our clients deserve the best possible representation. To meet that objective, we will work closely with you to help you make fully informed decisions, and to help you achieve the best possible outcome. One important element of that process is mutual accessibility, which enables you and our firm to work together toward your goals. Simply put, we commit to provide you with quality representation within your economic constraints.
Our Goal: To make Legal Services Affordable for Businesses, Large or Small, and For Individuals and Their Families
The biggest hurdle today in achieving the goal of equal justice is the high cost of legal service. At Kinsel Law Offices, we believe that everyone -- individuals and companies alike -- should have access to top quality legal representation at a reasonable cost. We work to achieve that goal by providing our services at hourly rates significantly below the rates offered by other firms for attorneys and staff with experience and skills comparable to our own. We are committed to keeping a careful eye on the time we bill and the expenses we incur. In addition, for appropriate cases, contingent fee arrangements are available.